King Cock 9 Inch Squirting Cock With Balls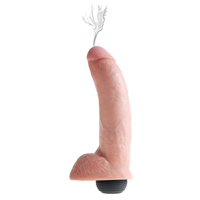 This King Cock Squirter is ultra-realistic and will satisfy all your cravings for cum-play!
Hand-sculpted with amazing attention to detail and featuring our exclusive Jizzle Juice squeeze-bulb, the King Cock Squirters are the most satisfying ejaculating dildos on the market!
Every King Cock Squirter is phthalate-free, latex-free, body-safe, hypoallergenic, and proudly made in the USA.
Insertable Length 7.25 inches.
Software: EuropaCart, Copyright 1999-2018 Kryptronic, Inc. Exec Time: 0.052508 Seconds Memory Usage: 8.696495 Megabytes